The Story of South London's Cradle of Punk
"Johnny's upstairs in his bedroom sitting in the dark, annoying the neighbours with his punk rock electric guitar".

Sound of the Suburbs The Members (1978).
Way on down south of London Town, there is a little-known suburb that can stake a claim to being the birthplace of a musical revolution. Punk rock heavyweights The Sex Pistols, the Clash and the Damned can all claim to have roots in the area, and it continues to produce artists and performers right up to the modern day.
This is the Sound of a Suburb.
Nowheres-ville
Although it's located just seven miles south of London's central point of Trafalgar Square, the suburb of Thornton Heath remains to some degree terra incognita for most Londoners. It's essentially the northern part of the London borough of Croydon and sits on the main A23 London-Brighton road after it has plotted its course through Brixton, Streatham and Norbury. It covers an area of roughly one-and-a-half square miles, and there are two focal points, one centred around the busy A23 traffic junction at Thornton Heath Pond (the pond is now filled in with concrete), and the other, about a mile to the north-east around the railway station.

Often pronounced 'Fort Neaf' by locals, the area has always had closer associations with 'inner urban' rather than 'outer suburban' London. As early as 1908 it was officially recognised by the government as 'a largely working class suburb in the poorer district of Croydon'. By the 1970s, its population was one of the most ethnically diverse in the country, with deprivation rates in the lowest 20%. It also had a reputation as a destination for the dead, sick and needy. The cemeteries and hospitals in the area are testament to that legacy. Yet as unloved as Thornton Heath appeared to be, there was little abject poverty, and it was never a slum. A vast proportion of the housing was well-built Victorian terrace which were privately owned, with only about 10% council-owned residences.
Thornton Heath has always struggled to establish a recognisable identity. In its early development it had no official status as a ward, village or town. It was a vague area between other places. It's neither a south-eastern or south-western London suburb. Indeed, the compass points of the capital's postcode system straddle the borders: SW16 to the west and SE25 to the east. In addition, Thornton Heath hides from London's gaze. Lying in the southern valley behind the Norwood hills, it is one of the unseen parts of the suburban sprawl, even from the tallest structures in the central metropolis. As such, the area suffered from an acute form of that metaphysical suburban trait: anonymity.
So how did the streets and houses of this non-descript suburb become integral to the story of the Punk Revolution? The answer lies in its proximity to the large town two miles to the south: Croydon.
So Fucking Croydon!
For most of the 20th century, Croydon was seen as the epitome of classic suburbia: populated in the large part by middle-income residents and aspiring young professionals, tree-lined streets, rows of semi-detached houses, a good shopping centre, golf clubs-a-go-go, plenty of leisure facilities and great transport links to London and the south-east. When the BBC launched its quintessential middle-class suburban sit-com 'Terry & June' in the 1970s, it was a montage of Croydon locations that was used in the opening credits. Croydon was respectable. Croydon was practical. Croydon was captain sensible.
However, there were negative vibes about the town. These may have stemmed from the rapid modernist developments of the late 1960s. The town became swamped with high-rise office buildings, providing thousands of finance and insurance industry jobs for commuters all over the south-east of England. It revelled in the nickname Mini-Manhattan, but for some it was becoming a concrete jungle. Coupled with the inherent stifling nature of suburban-ness, is it any wonder Croydon became a breeding ground for a musical revolution?
Various members of cult punk band Johnny Moped recall the town: "Croydon had a reputation as being a bit lame and not cool but I think we were quite proud to come from there, in a bloody minded sort of way." (Phil Burns). "Croydon was essentially a very dull place. It was full of people shopping and lots of office blocks. But I never considered that there was anywhere else to be." (Dave Bachelor). "Croydon was the butt of all the jokes, and we would sort of half support it and half take the piss. A goddamn awful place to live." (John Skinner). "Nothing happens in Croydon. We have a world of our own." (Paul Halford).
Perhaps another clue could be found in the words of the late great David Bowie. Living in nearby Beckenham, he had spent much of his formative years in the 60s studying at Croydon College. The town clearly had a negative effect on his psyche:
"It was my nemesis. I hated Croydon with a real vengeance. It represented everything I didn't want in my life. Everything I wanted to get away from. A complete hell. I think it's the most derogatory thing I can say about somebody or something: 'God it's so fucking Croydon!'"
Bowie's manor, Beckenham, was in Croydon's neighbouring borough of Bromley. This wealthy suburb would also produce its fair share of punk followers and performers, including Siouxsie Sioux and Billy Idol. They would become known in punk circles as the 'Bromley Contingent'.
But it was in the less affluent northern part of Croydon, that the early roots of Punk really began to take hold. The local Victorian terraced-houses would soon see the early get-togethers of many punk legends. Front rooms would double as makeshift studios and bedroom walls would resound to the new noise.
A Monster is Born
In the early 1970s, art students Malcolm Maclaren and Jamie Reid began to share a bedsit in the Thornton Heath district. Inspired by the 1968 Paris civil uprising, they produced an underground magazine entitled the Suburban Press at the Croydon Art College annexe in Thornton Heath High Street next to the old swimming baths. One particular issue rails against Croydon's sky-scraping development with the legend: 'Lo! A Monster is Born!' (it's now ironically a prize item in the Croydon Library). Shortly afterwards, Maclaren became the driving force behind the formation of The Sex Pistols, the band that literally shook the '70s music scene to its core, with Reid the artist who came up with the associated classic punk imagery.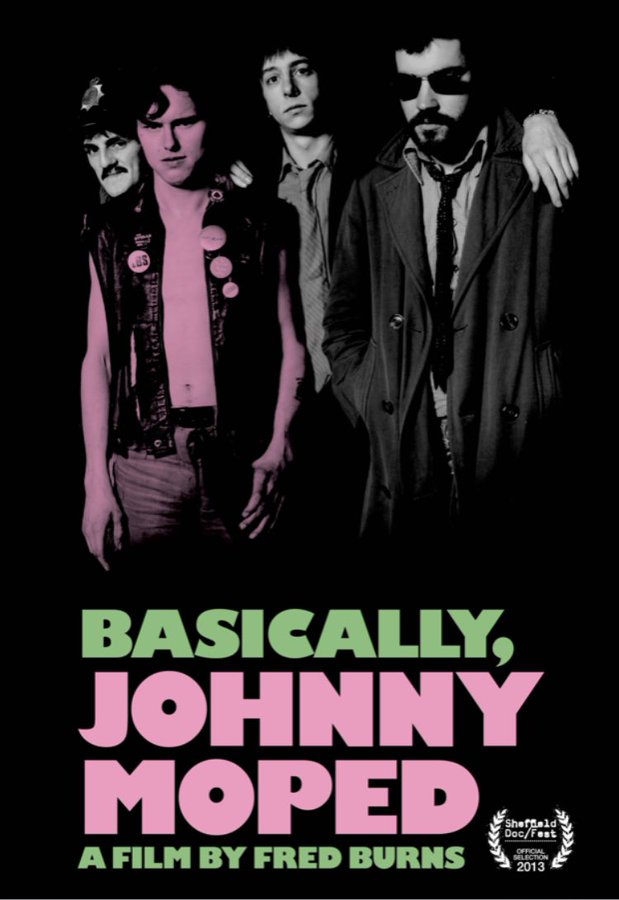 The Moped Express
Thornton Heath's punk story then moves onto a gang of pals who'd knocked around the local schools together. Ray Burns (Captain Sensible), his younger brother Phil, Colin Mills (Fred Berk), Dave Bachelor (Dave Berk), and John Skinner (Xerxes). In the early 70s, they were involved in various local bands with mutating line-ups such as the Black Witch Climax Blues Band, Genetic Breakdown and Tor.

Chrissie Hynde, later lead singer of the Pretenders, used to hang out with them: "They were all mates. I referred to the lot of them collectively as the Croydon Express… But they were all in awe of the local Croydon legend, the already mythical Johnny Moped."
Johnny Moped was the moniker of sulphur-voiced singer and keyboardist Paul Halford. He was a wannabe biker who had "Croydon Hells Angels" tattooed on his arm but didn't own a bike, hence the nickname given to him by Ray Burns. Burns also said of him: "Johnny is 100 percent Croydon. If you ever want to know what people from Croydon are like, look at Johnny."
Halford formed the Johnny Moped band, and at various points it featured all the Croydon Express suspects. Within their own sphere, the group were regarded as anti-authority, hell-raising livewires. Some might say attention seekers. Either way, it's almost as if they were waiting for punk to come along.
They practiced at the Burns family home in Edith Road, Selhurst, at the eastern edge of Thornton Heath. Captain Sensible recollected: "We'd rehearse at my family home in Edith Rd, Thornton Heath. Dad must've been remarkably tolerant as he'd just tell the constant stream of local residents who rang the doorbell to complain to 'join the queue'." It must indeed have been a lively affair in the Burns household. Halford remembers: "We used to do rehearsal sessions nearly every Saturday afternoon in Phil's bedroom... All we did was just have these mad musical jam sessions." Chrissie Hynde recalls that when she stayed overnight in Thornton Heath, a gang of them would, "often go to the Captain's and have a feedback free-for-all in his parents' front room".
For gigs, the band approached local pubs. There were plenty to choose from in those days. Thornton Heath alone had 26. As something of real ale buffs, one of their favourite hang-outs was the Railway Telegraph opposite Thornton Heath station. As Captain Sensible said: "THAT was a place you could get a decent pint". The Railway Telegraph is now one of only two or three pubs that still exist in the area today.
To get to gigs, the band would pile into the back of Dave Berk's 'bloody Morris Traveller' or Ray and Phil's dad's council lamppost maintenance truck. Their first appearance, which might claim to be the original proto-punk gig, was in a talent contest in the Brigstock Arms (now a gospel church) near Thornton Heath pond. If they couldn't find a pub, they would play in each others' back gardens.
Ray Burns left and was eventually replaced by Simon Fitzgerald (Slimy Toad). The band soon morphed into the 'classic' Johnny Moped line-up of Johnny, Slimy, Fred and Dave, and signed with the independent label Chiswick records in 1977. Company scout Roger Armstrong described the band as "Part of the Croydon tradition of musically competent punks." Their first album Cycledelic reached the top 60 in the UK mainstream album charts. 16 years after its release it was named as one of the best 50 punk albums of all time.
There is a sad postscript to the Johnny Moped story. According to several sources, it is fair to say that Fred Berk, the band's chief songwriter, liked a drink, even when on stage. Phil Burns remembers a gig in which he seemed the worse for wear: "He was able to remain standing for most of the concert but by the time of the encore he was totally drunk and had to lay down on the floor, doing his best to play bass." At another gig Dave Berk threw Fred off the stage. Fred left the band soon afterwards. He began to struggle with his alcoholism which led to a break-up with his partner. A couple of years later, he committed suicide by throwing himself under a train near Thornton Heath Station. He was just 28. Captain Sensible would name his son after him, and as Fred Burns, he would later produce the Johnny Moped documentary Basically (now available to watch on Netflix). The band continue to perform, but with a number of line-up changes over the years.
Stop Making Sense
One-time key member of Johnny Moped was Ray Burns, aka Captain Sensible, and future bassist with The Damned. Thornton Heath certainly played a part in his early direction. Like Johnny Moped, he had also made his mark as a local legend. Some still tell the story of him streaking naked down the High Street on a summer's evening. He recalled in an interview: "I can remember fly-postering in Thornton Heath and Broad Green for our first shows, and coming second to last in a talent contest at the Brigstock Arms."
In 1976, Burns joined The Damned with lead singer Dave Vanian (David Lett), guitarist Brian James (Brian Robertson), and drummer Rat Scabies (Chris Millar) who lived nearby in Addiscombe. Later that year, they released their first single New Rose which is generally credited as the first punk rock single.
One other Thornton Heath resident who had a connection to The Damned was Dave Reeves, guitarist with punk band The Straps. They had a cult following in London and supported The Damned on an early tour as well as the UK Subs, Sham 69 and Stiff Little Fingers. Rat Scabies made a guest appearance on their debut album.
Talk of the Town
Chrissie Hynde, the American-born lead singer of The Pretenders, took some of her first musical steps in Thornton Heath. Indeed, she formed her first band there. She recalls:
"I got the train to Thornton Heath and met Fred (Colin) Mills, a talented bass player and pianist. He had a mate, Dave Bachelor, who played drums… I'd regularly get the train to Thornton Heath with my guitar. We practiced in Fred's parents' front room, in a terraced house… I named us The Unusuals, although we never got a gig so we never got to use the name."
Fred's house was on Woodville Road just off the High Street. It was Hynde who nicknamed Fred and Dave the Berk brothers. The Unusuals then merged with Johnny Moped which put the brakes on Hynde's early career. At the first performance, Hynde played guitar but refused to sing because she didn't think her vocals were good enough. Afterwards there was an argument and Hynde considered her future direction. Later, while browsing through the punk fanzine Sniffin' Glue, she saw an ad: "Guitar player wanted for Croydon-based band." She called the number and Fred Berk answered. He hadn't told her she'd been sacked. Ironically, Hynde was the only person to answer the ad!

Hynde also briefly joined Masters of the Backside, with Captain Sensible, Dave Vanian and Rat Scabies. Again, Hynde was less than confident about her contribution. She later wrote: "Without me, they were probably the most musically accomplished punk outfit in town".
All the Young Punks
In 1955, a certain Paul Simonon was born at 1 Beulah Crescent, Thornton Heath. His family later moved three miles away to Brixton. In 1976, as a bass player on the London circuit, he met fellow south Londoner and guitarist Mick Jones. Six months later, they teamed up with Joe Strummer. It was Simonon who came up with the name for this new band, and thus The Clash were formed. Enough said.
Endangered Species
In 1980, the UK Subs, the band of veteran punk Charlie Harper, recruited bassist Alvin Gibbs and keyboardist Mel Wesson to work on the group's third studio album Diminished Responsibility. Both Gibbs and Wesson had been a part of the proto-punk movement in Thornton Heath in the 1970s. Gibbs' recalls: "We put together a group with the New York Dolls as our template. Guitarist Steve Crittal and his drummer mate Nick King were contacted and added to the line-up. We decided to call ourselves Marionette. We rehearsed in Mel's bedroom in Thornton Heath." Crittal later played with Pauline Black's Ska outfit The Selecter, and King for the left-wing 1980s band, The Redskins. Wesson went onto work with T. V. Smith, Siouxsie & The Banshees and The Verve before pursuing a career in film scores. Gibbs remained a member of the UK Subs, on and off, and also played bass for Iggy Pop's band on the 1988 'Instinct World Tour'.
Days
Kirsty MacColl, daughter of folk singer/songwriter Ewan MacColl was born in Thornton Heath and spent her early days here. As a young punk going by the name 'Mandy Doubt' she recorded with her first band The Drug Addix in a local studio. She would go onto have a string of solo hits, as well as the famous Christmas No.1 with The Pogues Fairytale of New York. In 1991, she recorded a version of Fred Berk's song Darling Let's Have Another Baby with Billy Bragg, which helped reignite interest in Johnny Moped.
Cool Operators
Thornton Heath had a large Caribbean community which lent a distinct flavour to the musical proceedings. Blues parties (essentially featuring roots reggae) were regular occurrences in some houses, and there was a dedicated record shop for that sound on Melfort Road. Two giants of the scene were resident, Desmond Dekker and Delroy Wilson. Dekker, 'voice of Jamaica's slums', was the first Jamaican musician to have a UK number one. His 1969 hit Israelites paved the way for later reggae stars such as Bob Marley. Ska singer Wilson had found fame as a teenager in Jamaica. He was referenced as the 'Cool Operator' by The Clash in their 1978 track (White Man) In Hammersmith Palais. Also living locally was the legendary dub master the Mad Professor who constructed his recording studio in the living room of his Thornton Heath home in 1979. Incidentally, whilst on a reggae theme, the famous Trojan Record label, born out of Island Records, was named after the Trojan Truck used by Duke Reid to carry his sound system around Jamaica in the 1960s. Trojan Trucks were built in a factory on an industrial estate between Thornton Heath and Purley.
Not Only, But Also
There were of course, performers from other musical genres in the '70s who hailed from Thornton Heath. Three particularly worthy of mention: Wizz Jones, a folk singer-songwriter who worked with Ralph McTell and Bert Jansch, and had his songs covered by Bruce Springsteen among others; Del Detmarr, who played in the hard rock band Hawkwind (alongside 'Lemmy', who went onto form Motorhead. Johnny Moped supported them at the Hammersmith Odeon in November 1977); and Mickey Finn of Marc Bolan's glam outfit T. Rex, whose Croydon performance in 1975 convinced Captain Sensible of a future onstage.
One, Two, Three, Four…
Thornton Heath was all very well 'in practice', but how about on stage? Well in that respect, the musicians were blessed. Just a few minutes drive with all your band members and equipment piled in the back of an old van, and you were in Croydon, and a host of potential venues was at your disposal.
It's difficult to imagine now with its 'dull' image, but back in the day, Croydon's live music scene was legendary. There were huge drinking establishments with separate stage areas. The Greyhound perhaps the most famous among them.

Captain Sensible recalls: "My over-riding memories of the Greyhound are not of playing there but of going there as a teenager to watch all those marvellous bands that played the place… I have to admit I was one of those scoundrels who clambered over St George's Walk to come in through the fire escape windows."

Other dedicated rock venues included The Cartoon and The Star, both in Broad Green, between Thornton Heath and Croydon. Plus there was a whole host of bars, pubs, clubs and dancehalls with live music licences. Whatever your musical tipple, you could find it in Croydon. On weekends, carloads, busloads and trainloads of punters would descend on the town centre from surrounding areas to discover a new act or catch up with an old favourite. In London, it was second only to the West End in this respect, but without the attendant high prices. Anyone who was anyone in those heady days played in Croydon. You only have to take a look at some of the old concert bills. And there were great record shops: Bonaparte's was well renowned for New Wave, and Kirsty McColl worked there in her teens. And then there was Beano's, a legendary labyrinthine second-hand store in the old market. Thornton Heath itself had four record stores, including Tracks where the eccentric proprietor promoted all things Dean Martin, primarily because he was the president of the crooner's official UK fan club.
Damned, Damned, Damned
Since the start of the 21st century, however, for one reason or another, Croydon began to lose its musical mojo. Trouble was a contributory factor. The central area became unsafe for the average punter on a night out. Vicious altercations were taking place in the venues and the streets outside. There was fighting on the dance floor. Bands wouldn't play. Police cracked down. Licences were rescinded. One by one, the pubs and clubs began to close. This place, was coming like a ghost town.
Then, in August 2011, the worst riots for 30 years broke out across the capital and Croydon was by far the worst affected area. Why Croydon was picked on as the number one quarry for the rioters remains unclear. It just seems the town 'hit the spot' as a proposed target in an action coordinated through social media. Hundreds of rioters from across the capital descended on the area in just hours, turning the town into a battle-zone. There were vicious attacks on bystanders, multiple stabbings and four people died, including a father-of-four who was shot. By nightfall large parts of the town were ablaze. An iconic image was taken of a burning bus in the town centre. Another, taken by press photographer Amy Weston, captured the moment when a woman leapt from a burning building. The following day, the dramatic pictures appeared on the front covers of all national newspapers.
It's reputation as a place for a good night out truly in tatters, Croydon struggled to recover. In the decade since the riots, the town entered a period of accelerated urban decay. It slithered down the table of respectable places to live and rapidly became rundown, not least owing to criminal neglect by successive local councils. It has become a crime hotspot, indeed at various points, the UK's worst place for murders and stabbings. Sirens fill the air, and the desperate and homeless line the streets. Ralph McTell says his iconic ballad Streets of London, about the capital's down and outs, was originally called Streets of Croydon. Today, the latter seems more apt as a title. Very often the town centre is deserted. Workers scuttle home. Residents stay in. Visitors don't come. The bright flame of what was once one of the most vibrant live music scenes in the country, has all but been snuffed out.
Keep On Keeping On
However, there are signs of a cultural recovery. As so often happens, urban decay can attract a radical edge, particularly around the art sectors. The vast murals around the town centre have attracted curious visitors, and it's no coincidence that global graffiti artist 'Banksy' recently opened a store in the town. Then there is the Box Park, which opened next to East Croydon station in 2016. This offers new opportunities for live acts, even if the complex itself is a little commercially bland.

Thornton Heath meanwhile, went on churning out musical success stories. The 1990s brought a more experimental vibe with resident musicians such as David McAlmont (McAlmont & Butler), and Chris Cutler, one-time member of the American avant-garde rock band Pere Ubu, who preferred to work in the "south London 'wilderness' of suburban Thornton Heath, which seemed more authentic than the inner city." Also DJ Paul Oakenfold, who revealed: "It's weird, because I was born in Mile End Hospital, so I can claim with some justification that I'm a true cockney. But my family actually lived in Highbury and then moved to Thornton Heath, so I spent most time growing up in south London. I was always happiest in Thornton Heath and I've still got friends there, so I like to think of myself as a cockney south Londoner."
In the early 21st century, perhaps reflecting its 'grime' credentials, Thornton Heath continued to foster musical creativity. Three performers in particular all grew up here: Chris Reed, aka Plastician, Karl Wilson (son of Delroy) of duo Krept & Konan, and Stormzy, who went onto become a major international act.

And it should be mentioned that about the same time, the dulcet tones of several up-and-coming global superstars such as Amy Winehouse, Adele and Katie Melua could be heard floating across the local airwaves, albeit in a more contrived setting. Along with countless others, they attended the 'Brit School for the Performing Arts' which opened in the 1990s between Thornton Heath and Croydon, on the same site as Selhurst Grammar School which various members of Johnny Moped attended all those years before.
Thus the rhythmic rhizomes keep on reaching out of Thornton Heath, and hopefully this often neglected suburb of south London will continue to serve as a source of musical inspiration for many years to come.
Sources (happy to credit any others).
'Basically' Johnny Moped documentary produced by Fred Burns (now on Netflix).

Interview by Alex Ogg for Spiral Scratch fanzine.

Interview by Deep-London Magazine.
Interview by Mark Williams for Smash It Up Com Website.
Hutchinson, Barry: The Damned – The Chaos Years: An Unofficial Biography.
Hynde, Chrissie: Reckless : My Life As a Pretender. Doubleday, 2015.